Artistic team
Conductor
Erik Desimpelaere
Erik Desimpelaere (°Harelbeke, 28-06-1990) is a Belgian componer, pianist and conductor. He obtained a Master Diploma of Piano at the Royal Conservatory of Brussels in Piet Kuijken's class and a Master Diploma of Composition at the Royal Conservatory of Antwerp in Wim Henderickx and Luc Van Hove's class. In 2018, he obtained his Bachelor's Degree in Orchestral Conducting at the Conservatory of Amsterdam with Ed Spanjaard and Lucas Vis.
Erik Desimpelaere is chef conductor of Royal Symphonic Wind Band Vooruit Harelbeke. As guest, he assisted for a number of times at the Dutch National Opera Academy, for the productions of 'The Mother of the Black-Winged Dreams' (Hanna Kulenty), 'Cendrillon' (Jules Massenet), 'Hänsel und Gretel' (Engelbert Humperdinck), 'The rape of Lucretia' (Benjamin Britten) and 'Cosi fan tutte' (W.A. Mozart). In 2016, he conducted the world premiere of 'Over' (Rick Van Veldhuizen) during the Opera Forward Festival in Amsterdam's National Opera. In 2018, he conducted two concert performances of Britten's chamber opera 'The Turn of the Screw'. He is also curator of the International Composition Competition Harelbeke (ICCH), a competition that encourages composers from all over the world to integrate the musical language of the 21st century in new work for wind band. Next to all this, he is also conductor of Kortrijk Symphonic Orchestra.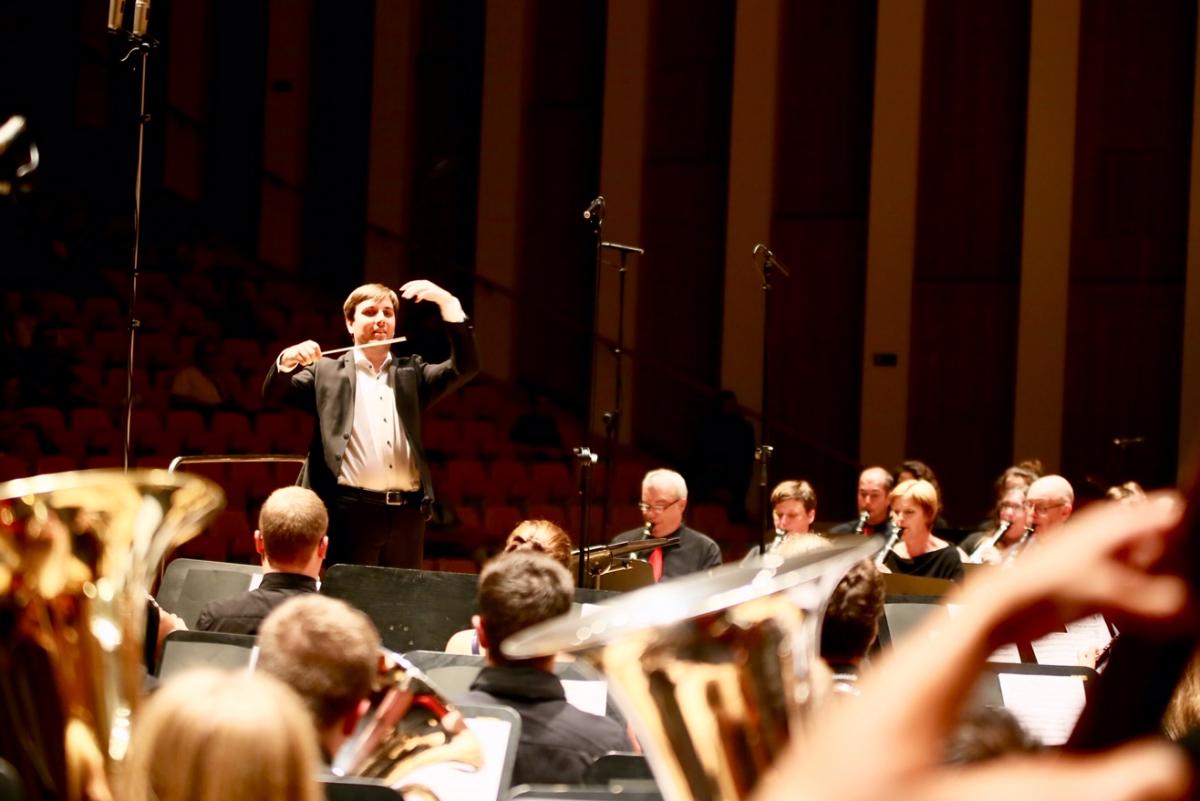 As a pianist, Erik Desimpelaere forms a duo with his brother David Desimpelaere, double bass player. They bring a mix of original repertoire for double bass and transcriptions.
Erik Desimpelaere also composes music for various instrumentations: symphonic orchestra, music theater, wind band, chamber ensembles and solo parts. The foundation of his compositions lies in one the basic principles of Western music: the interplay of two horizontal lines and their vertical result. By combining this basic principle with a well thought-out use of acquisitions from the 20th century and an interest for cross-over with jazz and pop music, he searches for his own 21st century musical language.
You can find more information on Erik's website.
Assistant conductor
Pieter Vandenberghe
Pieter Vandenberghe (°1982) started his musical education at the music academy of Harelbeke, where he studied piano and euphonium. He obtained the title of Master of Musical Arts at the Conservatory of Ghent (in Johan Duijck's class), in addition to a summa cum laude degree for piano. After this, he also graduated with a Master diploma for euphonium (guided by Guy Audenaert) and studied Conducting with Dirk Brossé. He followed masterclasses given by Jean-Claude Vanden Eynden, Jan Michiels, Boyan Vodenicharov and Jukka Myllys.
Pieter has worked as piano and orchestra teacher in different music academies and remains an active chamber music player and assistant in competitions. He also plays the euphonium in the Royal Music Band of the Belgian Defence Force and the piano in the Royal Wind Band of the Belgian Guides.
From 2007 to 2010, Pieter directed the symphonic wind band 'de Filharmonie' in Kortrijk and spends his leisure time playing at the Leieland Brass Band and Braz'art. In these organizations, he also regularly operates as assistant conductor and performs as soloist, with both premieres and soloist prizes on his record.
Pieter is a frequently asked musician in the Flemish wind and brass world and has been playing for years in the musical theater comany Oot Kwizien.
Assistants repertoire choice & musical planning
David Vandekerckhove & Tim Van Thuyne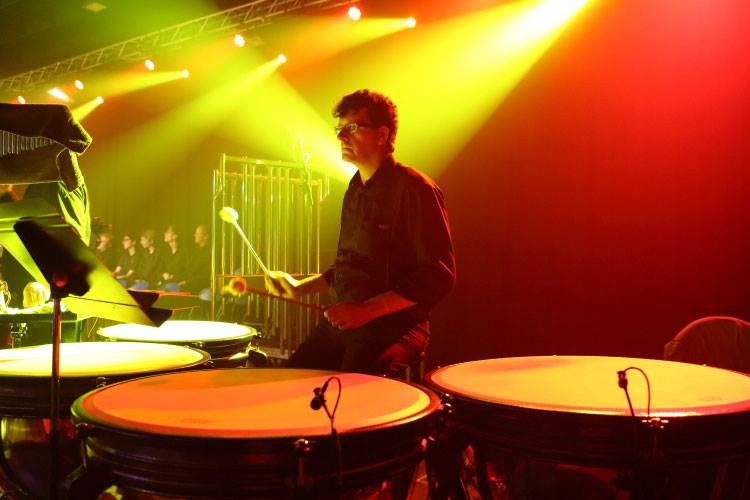 David Vandekerckhove (°1974) has been a Vooruit member since 1987 as percussionist and first bass tuba player. He received the Master of Musical Arts diploma, specialization Tuba, at the Ghent conservatory, as well as the First Prize in Music Theory. At the moment, he works at the Academy for Musical, Dramatic and Dance Arts Harelbeke.
Tim Van Thuyne (°1994) studied oboe, cor anglais and chamber music at the Academy for Musical, Dramatic and Dance Arts Harelbeke under the supervision of Yf Bourry. He obtained a Master of Arts in Musicology at the Catholic University of Leuven and is currently completing a specialization in oboe at the Conservatoire Royal de Bruxelles (in Eric Speller's class). In 2018, Tim was accepted in the orchestra of the Belgian Royal Air Force as oboist and cor anglais player. Tim received prizes in different national competitions, such as Belfius Classics and the Sonatina competition for soloists.
Honorary conductor
Geert Verschaeve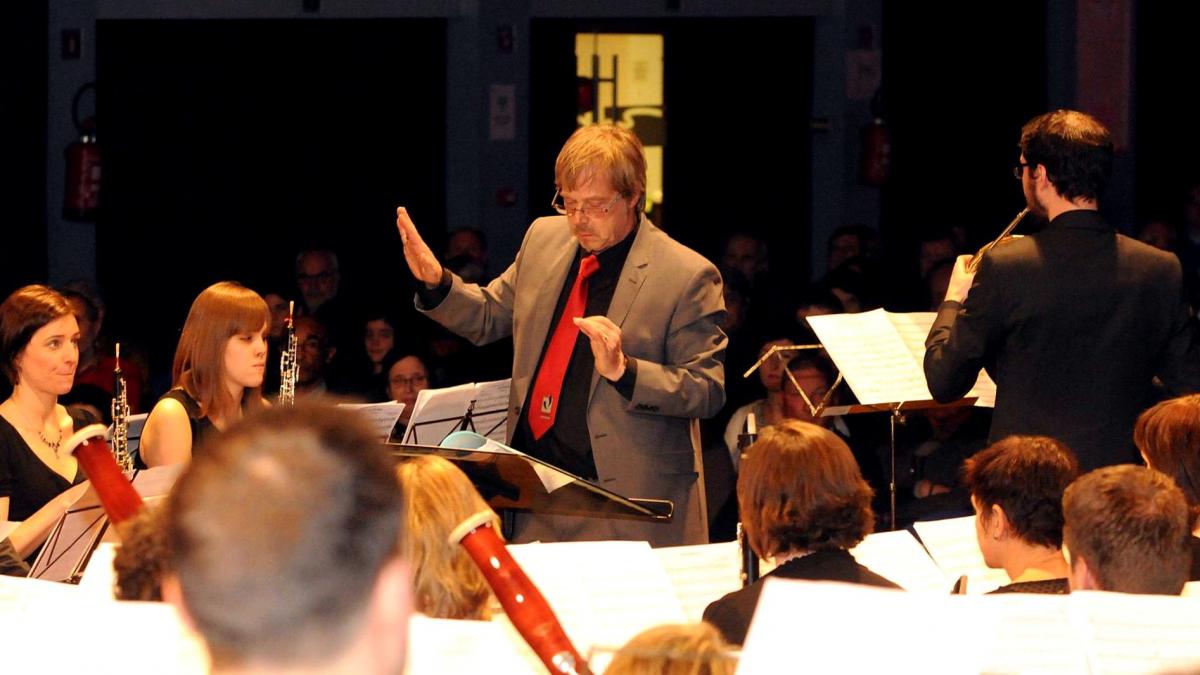 Geert Verschaeve studied Trombone at the Music Conservatory of Ghent, where he was awarded several prizes, among which several for trombone and chamber music. After graduating, he was appointed teacher at the Academy for Musical, Dramatic and Dance Arts Harelbeke, as well as at Kunsthumaniora Gent. He also became a frequently asked trombone player in many Flemish orchestras and has played as trombone soloist at the Flemish Opera of Antwerp. In 1986, he was appointed conductor of the Symphonic Wind Band Vooruit, succeeding his mentor Gustaaf Devolder and exerting this task for more than thirty years, until 2015. With Geert's guidance, Vooruit has built up an impressive record, thanks to an impressive range of successes within as well as outside Belgium. For instance, Vooruit was awarded first prize multiple times at the competitions in Valencia (ES) and Kerkrade (NL). At the moment, Geert teaches at the music academy of Harelbeke, Kunsthumaniora Gent and Hogeschool Gent.